Kickstart your Net Zero Journey
We are giving away 1 year's FREE access to Zellar, a sustainability platform that helps businesses to plan, measure, report and share their business sustainability journeys, and reduce their energy costs. This 1 year accelerator programme is designed to help local businesses to kick-start their Net Zero journey. The offer is available to the first 300 qualifying small or medium enterprises (SMEs) that apply, using the code below. The programme is provided through a combination of United Kingdom Shared Prosperity Funding (UKSPF) awarded to Cheltenham Borough Council and funding from SSE Energy Solutions' Sustainability Business Communities Programme with Zellar.
 Local schools can sign up for 12 month's free access to Zellar here. Sports clubs and charities can also join using the link above.
Sustainability counts.




For better business and a better planet
Savings made easy
with Zellar
British businesses waste £34bn worth of energy each year. Zellar has been designed from the ground up to help organisations get to grips with sustainability. For less than ten minutes a day you can start to reduce your energy bills and your carbon footprint.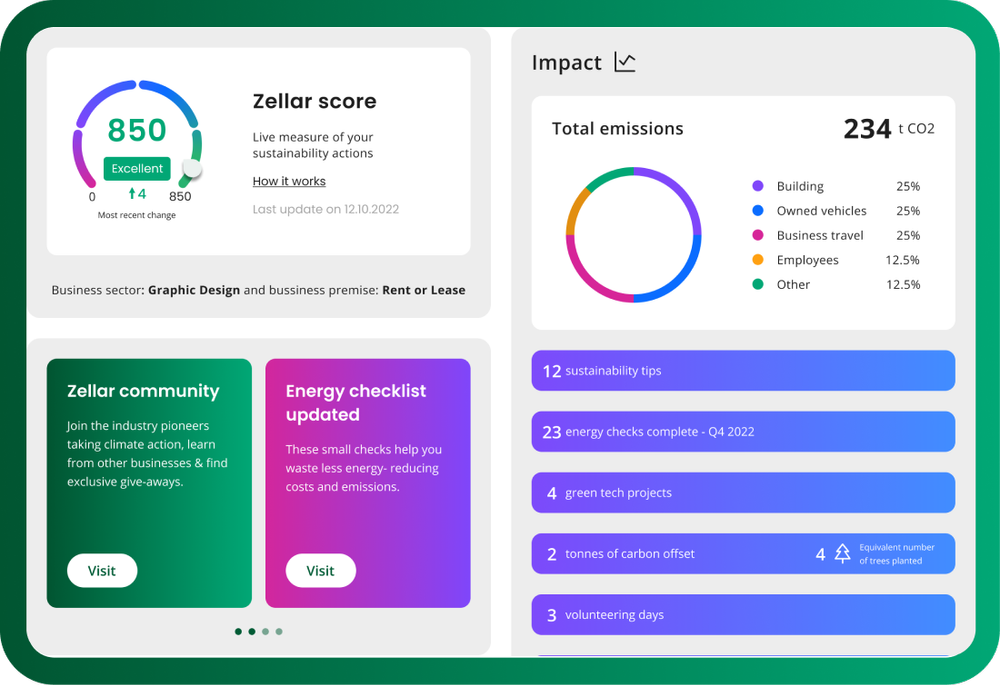 What Zellar can offer you
Already signed up?
If you've already signed up and are wondering how to get the most from your FREE Zellar membership, you can get started by watching this short demo video. If you want to know more or have a specific question to ask about the platform, Zellar also run free demos on Mondays, Wednesdays and Fridays.